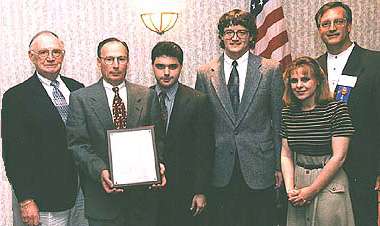 The Prospering in America team receives the ILCA award (left to right):
Ed Cleary, New York State AFL-CIO president; Tom Hopkins, co-host; Mario Cilento, New York State AFL-CIO communications director; Alex Blair, co-host.

PITTSBURGH, PA. – Saying Prospering in America has "lots of energy and humor, good give-and-take between the hosts (and) a fast-paced style that makes you want to listen," the International Labor Communications Association presented the Buffalo-produced syndicated radio show with their first place award for radio programs.

Prospering in America's team accepted the award at the International Labor Communications Association's national conference in Pittsburgh, Pennsylvania September 21, 1997.

The award for the July 27, 1996 show recognizes achievement by labor organizations in video and audio communications and the arts. One hundred fifteen entries were submitted among several categories in the biennial competition.

Prospering in America is a weekly, hour-long show that deals with issues facing working men and women including the workplace, politics, family, health and personal finances. It currently airs in 11 cities across New York State, Massachusetts and New Jersey including New York City and Boston. The show airs in Buffalo Sunday mornings at 8 a.m. on Oldies 104-FM, WHTT.

"The show has been the voice of working people for more than four years," said Ed Cleary, president of the New York State AFL-CIO. "We're proud to play a role in sending labor's common sense message to our members and the general public as well."

The show features news, interviews and commentaries that highlight a variety of issues. These are intertwined with entertaining features, including a weekly commentary by former Texas Agriculture Secretary and talk show host Jim Hightower and Milestones – a brief look at important individuals and events in history of working men and women.

"We've always known that Prospering in America is a show of international caliber and this award demonstrates that fact," said Joseph Faherty, retired president of the Massachusetts AFL-CIO.

The syndicated show, which debuted in Buffalo, New York in May of 1993, is hosted by Alex Blair, director of Labor Studies, Cornell University School of Industrial and Labor Relations - Western Region, and Tom Hopkins, retired president and business manager of the International Union of Operating Engineers, Local 17.

A number of prominent guests have appeared on Prospering in America including: TV Nation Host Michael Moore, Actor Al "Grandpa Munster" Lewis, NAACP Chairman Julian Bond, former U.S. Secretary of Labor Robert Reich; the Rev. Jesse Jackson; Tim Russert, host of NBC's Meet the Press; John Sweeney, president of the AFL-CIO; folk singer Peter Seeger; Jay Harris, publisher, and Jeff Klein, editor-in-chief, Mother Jones magazine; Massachusetts Senator Ted Kennedy; Steven Yokich, president of the United Auto Workers; George Raveling, CBS sports commentator for college basketball; George Becker, president of the United Steelworkers of America.

• PIA Home Page • PIA Fact Sheet • The PIA Radio Team
• Overview & Show Highlights • Nationally-Known Labor Guests
• Nationally-Known Guests • Snapshots • PIA On The Road
• Comments Page • Call PIA • The Show's Sponsors
• Affiliated Stations • Labor Related Web Sites
• PIA Issues for Working Men and Women
Email us today with questions, or comments to pia@piaradio.com
716-884-3190 (Buffalo, NY) and 1-800-335-1004
©2005 Prospering In America, Inc. All rights reserved.
This site last updated on Friday, December 10, 2004